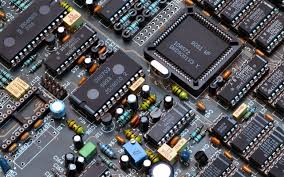 The dept has started in the year 2000 with a vision to develop professionals with expertise in electronics and hardware design. The department has well equipped laboratories and highly experienced faculty. Electronics is the branch of physics and technology that concerned with the behaviour and movement of electrons in a vacuum, gas, semiconductor, etc. A course in electronics emphasis on the design and working of electronic devices as well as the principle behind those devices. It includes both the theoretical as well as the practical knowledge of the electronic devices. This course has computer science as a complementary course. So that the students will be having a knowledge about the computer languages too. This course is also offers a good career.
Department Vision

To evolve into a centre of excellence in electronics and communication engineering, moulding professionals having inquisitive, innovative, enthusiastic and creative minds with practical skills who can strive for the betterment of mankind and make them a sustainable engineer.

Department Mission

M1- To impart state-of knowledge to students in electronics and communication engineering.
M2 -Helping students to apply their skills to accomplish organizational goals
M3- Moulding them to have a high degree of social consciousness and a sense of human values, thereby enabling them to face challenges with courage and conviction.
M4- Nourishing thoughts about sustainability and environment.
Faculty Members
 
 

 

DEEPU JOSEPH    
HOS In Charge    
9446073146

 
 

 

JOMY VINCENT    
Lecturer in Electronics     
9947889441    
This email address is being protected from spambots. You need JavaScript enabled to view it.

 
 
 
 

JISNA M B
Lecturer in Electronics    
9539820444
This email address is being protected from spambots. You need JavaScript enabled to view it.

 
 
 
 

MEENU SASEENDRAN   
Lecturer in Electronics    
9400020893
This email address is being protected from spambots. You need JavaScript enabled to view it.

 
 
 
 

ARYA S
Lecturer in Electronics
86069 06994
This email address is being protected from spambots. You need JavaScript enabled to view it.

 
 

 

SUGANYA D   
Lecturer in Electrical Engineering   
9497384869  
This email address is being protected from spambots. You need JavaScript enabled to view it.

 
 
 
 

SANEER SALIM  
Demonstrator in Electronics  
7034385781
This email address is being protected from spambots. You need JavaScript enabled to view it.

 
 
 
 

ANOOP MURALI
Demonstrator in Electronics
9747465853
This email address is being protected from spambots. You need JavaScript enabled to view it.

 
 

 

AJITH VIJAYAKUMAR
Demonstrator in Electronics
7510306046
This email address is being protected from spambots. You need JavaScript enabled to view it.

 
 

 

ABHISHEK KP 
Demonstrator in Electronics
9946873064
This email address is being protected from spambots. You need JavaScript enabled to view it.

 
 

ABHISHEK SAJI
Tradesman in Electronics
7591911629
This email address is being protected from spambots. You need JavaScript enabled to view it.